"...Our zoo project is now exhibited in the 'Slovak national museum'...
This is part of a message Lieven wrote together with some images sent by teacher Zuzana from Slovenia.
Teacher Viljenka made a new adaptation of Eric Carle ´s book
"Brown Bear, Brown Bear what do you see?"
Click on the image below to see it.
a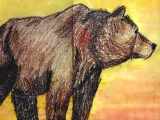 "... in Slovenia our Zoo was the best project for Primary schools .
http: //www2.arnes.si/~osngso3s/project_zoo/solkan_zoo.htm
You can download the "stamps" from our BLOG.
Click on ENLACES
ENLACES PARA OS PROXECTOS/PROJECTS LINKS
and click on the image on this article.
Enjoy your drawings!